Bacon Wrapped Dates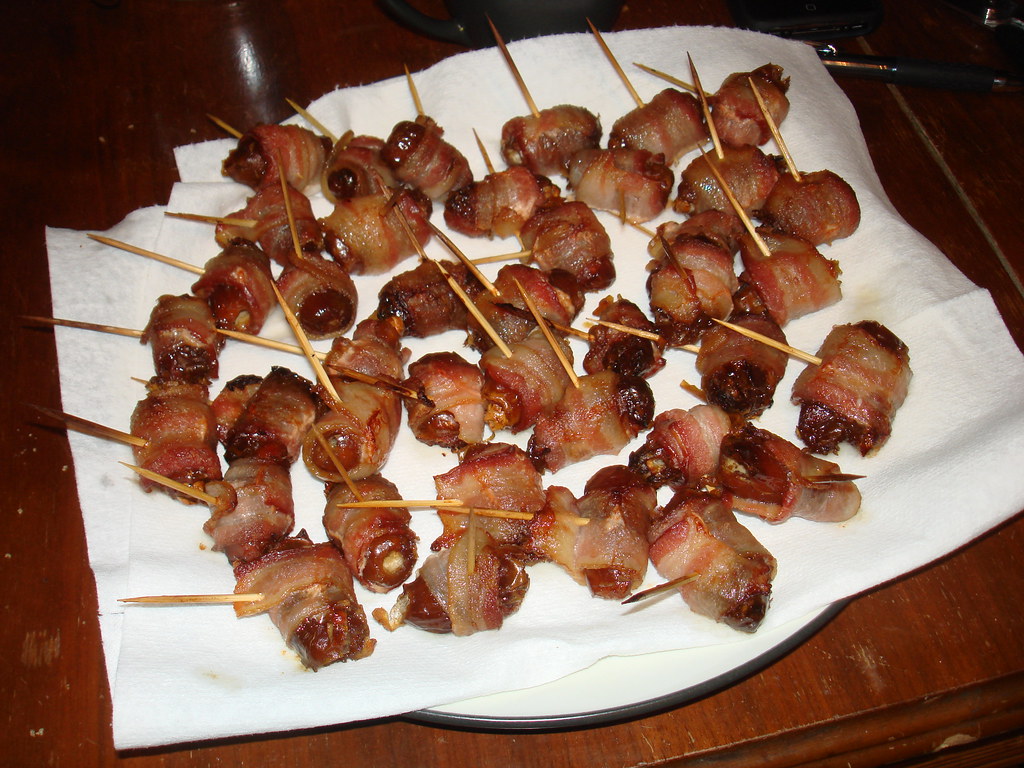 Bacon Wrapped Dates are so delicious appetizer which is ready in minutes. They are delicious in their own way with a dip of your own choice. Enjoy this Bacon Wrapped Dates as warm or cold.
Bacon Wrapped Dates are so easy to make as you need only two ingredients and Hurrah! your appetizer is ready to serve. Just wrap the dates with bacon and bake them at specific temperature and serve them in minutes.
This Bacon Wrapped Dates has a sweet, salty and chewy appetizer . The best thing about this appetizer is that you can prepare dates and serve them immediately. Another importance of this recipe is it is healthy as well and it takes very less time for preparation.
Why these Bacon Wrapped Dates are Good
The recipe is so simple that you need only 2-3 ingredients to prepare this appetizer. This Bacon Wrapped Dates are pack full of flavor. This recipe is so sweet and creamy. The appetizer is finger linking good. You can also use sugar free dates to have this appetizer for Whole30 diet.
Can you make this appetizer before time?
You can assemble the dates in beacon before time and place them in oven when you need to serve them. After assembling place these dates wrap in bacon support by toothpick in refrigerator so that the bacon may not become soften. Place the toothpicks wrap in some air tight box in the fridge and cook them when you want to serve the dish.
How to make Bacon Wrapped Dates
Take pit free dates and wrap them with bacon. Place toothpicks on the wrap dates and place these wrap dates onto the baking tray. Bake them for 10 to 12 minutes at 375°F/190°C in baking oven. After 12 minutes remove the dates and they are ready to serve.
Variations in recipe
You can try these Bacon Wrapped Dates with almonds, pistachio or any other dry fruits as well. Remove the fits from the dates and than add dry fruit of your own choice. You can almonds or pistachio in place of fits and than wrap dates with bacon.
Another method of doing variations in recipe is adding cream along with almonds or pistachio and than wrap the dates with bacon. This will add creamy and crunch flavor to this yummy appetizer.
You can use cheese as well instead of cream. Cheese will add a fabulous flavor in this Bacon Wrapped Dates. Cheese of different types or different flavors can be added in this and it will add creamy texture in this appetizer. You can further add honey as a variation in it. It will add more sweeten flavor to this recipe.
Some other appetizers you will love
Bacon Wrapped Dates
Ingredients
14 dates
bacon for wrapping the dates
Toothpicks
Almonds
Directions
Pre heat the baking oven 375°Fahrenheit./190°Celsius.
Slice the dates lengthwise on one side to create an opening to remove the pits from dates.
Take a spoon and remove the pits from all the dates.
Add any dry fruits just like almond or pistachio in place of pits in dates. You can add cream or cheese as well in this along with almonds and pistachio. It will enhance the flavor of dates and makes it more crunchy and juicy from inside.
Cut the bacon into two halves and wrap single date with bacon and secure them with toothpicks.
Arrange evenly on the baking tray with rise edges and bake them for 10 to 12 minutes. After 5 minutes remove the baking tray and than turn the dates with help of toothpicks. Bake for another 6 minutes until your favorite brown color comes out. Remove from oven and place the dates on plate in line.
For crispier Bacon Wrapped Dates bake for more time. Bake 1.5 minutes more than the standard time mention in recipe for the crispier taste.
Notes/Tips
I recommend you to use pitted dates as it is easy to use, just bring the dates and they are ready to use. If you bring dates with pits than this is not an issue. Remove the pits and than use these dates.
Bacon Wrapped Dates are also served with almonds. Fill the dates with almonds and than wrap them with bacon and bake them. Almond gives extra crunch to this yummy appetizer.
This recipe is very easy and quick to make. Just warp the dates and bake them and the appetizer is ready to serve. The bacon comes in large strips so cut the strips into two pieces. This will increase the number of dates for serving.
Wrap the dates for once. Do no overlap the dates with bacon layer. Single layer will cook faster and cook properly from inside.
Nutrition Facts
Dates have super good nutrition facts. When the dates are dried than their calories content is more than the natural fruits. Dates are high in fiber. There are almost 7 grams of fiber in a 3.5-ounce serving of dates. The fiber in dates are good maintaining the sugar in blood. These dates are high in disease fighting antioxidants. These dates helps in promoting the health issues of brain. Dates are lower in cholesterol so they are helpful in having good diet control along with maintaining the cholesterol.
Prep Time: 2 minutes
Cooking Time: 15 minutes
Total Time: 17 minutes
---
---