Egg Roll In A Bowl
The Egg Roll In A Bowl is the best and flavor enrich recipe best one for Whole30 Diet and can be prepare in single skillet. This recipe is best to prepare in dinner for whole family. Egg Roll In A Bowl is keto friendly, low in carbs. Good for the one's whole are on Whole30 diet. The best part of this Egg Roll In A Bowl is that it is prepare in one skillet.
Preparation of Egg Roll In A Bowl in one skillet reduces the difficulty as it reduces the requirement of different utensils. The best part is that all of your favorite Chinese restaurants appetizers come together in single bowl, while keeping the flavor and taste in one skillet. This Egg Roll In A Bowl is quick, easy and healthy recipe. It can be prepare in 20 minutes or less and in single skillet only.
The Asian type recipe have all sets of rich flavors with no fat frying oil and they are good enough to fulfil your cravings. Egg Roll In A Bowl is just a big bowl fill full of colorful and fresh vegetables stuff fry in soya sauce. This recipe gives the Chinese appetizers an Asian touch which is difficult to resist.
The simple, tasty and fresh flavors in Egg Roll In A Bowl creates friendly family dinner in just 20 minutes using single skillet only. So it means that you can now serve your crew a simple and healthy dinner in just 20-25 minutes. It uses only single skillet, means you need to wash a singe skillet after dinner. It makes your life so easy and soothing.
How To Make Egg Roll In A Bowl
Take a pan and add some drops of coconut/olive oil in the pan. Now add some garlic and ginger in it and heat it for 1 minute. The garlic and ginger just adds flavor in the recipe so there is no need to brown ginger and garlic.
After 1 minute add ground pork/chicken in the pan and smash it with help of wooden spoon. Cook the pork/chicken fully until it is cook fully. Make sure that all the water evaporates while cooking. There remains so water when we are moving to next step. When pork is cooking. it is best time to add the other ingredients for egg roll in it.
When the pork is cook fully than add vegetables in it and cook until the vegetables are tender and become soft. In the end add the topping source over it and it is ready to serve.
Whole30 Ingredients for Egg Roll In A Bowl
Ground pork is rich source of protein in this recipe. Mostly people do not use pork in Egg Roll In A Bowl but it is the main source of proteins in their recipe. Besides this it adds flavor to his recipe. If you want you can use chicken instead of pork in this recipe as this is source of proteins too.
Mix Vegetables are the source of minerals and other important nutrients like iron and fiber. They increases the health benefits in this recipe. You can add vegetables of your own choice.
Ginger and Garlic is the main source of flavor in this recipe. Fresh Garlic and Ginger adds different kind of flavor in this recipe but if you do not like ginger and garlic than you can use onion instead of it.
Soya Sauce add different flavor as it act as toping sauce and adds rich flavor in it. You can use coconut ammonia instead of soya sauce because it tastes just like that of soya sauce.
Sesame Oil add classic egg roll flavor in this recipe. This ingredient can be found in any grocery store.
Red Pepper Flakes is totally optional ingredient in Egg Roll In A Bowl recipe. If you like spices than do not forget to add red pepper flakes in this. It will increase the spices and your love to eat Egg Roll In A Bowl.
Serving of Egg Roll In A Bowl
One of the best thing about this Egg Roll In A Bowl is that you can customize it according to your needs and serve them. If you want to keep this recipe for Whole30 or low in carbs than you can serve Egg Roll In A Bowl over cauliflower rice. Mayo can be use as topping for having keto friendly and low carb diet. You can serve these Eggs in bowl with jasmine rice and and set of vegetables. You can use Roasted broccoli or Roasted Green beans as your side dish veggis.
Last but not least you can serve these Egg Roll In A Bowl with low carb and gluten free noodles. You can have this dish as breakfast or you can have this as meal or lunch serve along with veggies and rice of your own choice or any other sides.
More Delightful Recipes You Will Love
Egg Roll In A Bowl
All of your favorite Chinese appetizers come together in a single bowl along with some Asian touch having enrich flavor in single skillet. Egg Roll In A Bowl is a simple, quick and healthy recipe which can be prepare in just 20 minutes.
Ingredients
2-tablespoons season oil
6 green onions sliced
1/2 cup red onion diced.
5 cloves of garlic
1 pound ground pork
1-teaspoon ginger
1-tablespoon hot sauce
14 ounce bag coleslaw mix
3 tablespoons coconut aminos
1 tablespoon wine vinegar
Black/White pepper
Salt to taste
Creamy Chili Sauce
1/4 cup of mayonnaise
1-2 tablespoon hot sauce
salt to taste
Directions
1-Take large skillet and place it on stovetop and turn the flame on medium range. Add some spoons of coconut/Olive oil in the pan and than add ginger, garlic, red onions diced and white onions in the oil. Heat frequently until the onion becomes soft and tender.
2-Add ground pork in the skillet and smash into pieces with help of wood spoon. Now add 1 tablespoon sriracha hot sauce or chili sauce in the ground pork and heat it for 7-10 minutes until the ground pork becomes soften.
3-After that add coleslaw mix, soya sauce, rice wine vinegar, white pepper and salt according to your taste. Cook for few minutes until all the ingredients are mix well. Cook for 5 minutes so that the vegetables become soften and teder.
4-Meanwhile, take a small bowl and whisk together 1/4 cup of mayonnaise, salt according to your taste and 1-2 tablespoon of hot sauce in it. Mix all the ingredients well and place it in small plastic bag to drizzle over the skillet.
5-place the mixture in the bowl and drizzle it with mayonnaise sauce and serve them with side of your own choice.
Nutrition's
Egg Roll In A Bowl is full of nutrition's as it contains different vegetables which are rich source of energy. Single serving of this dish contains 509.2 calories; 17.9 g protein and 74 mg cholesterol. This recipe is low in carbs, keto friendly having low paleo and best for the ones who are on Whole30 Diet. It gives proper nutrients while keeping the diet maintain.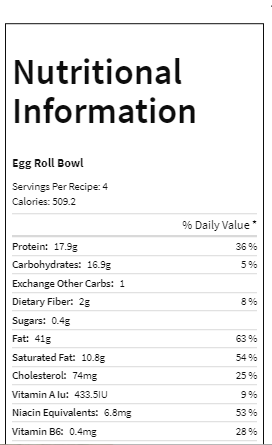 ---
---